Roberts wrote about physics, accelerators, and nuclear science at Berkeley Lab, infusing stories with wonder and excitement
By Aliyah Kovner and Julie Chao
---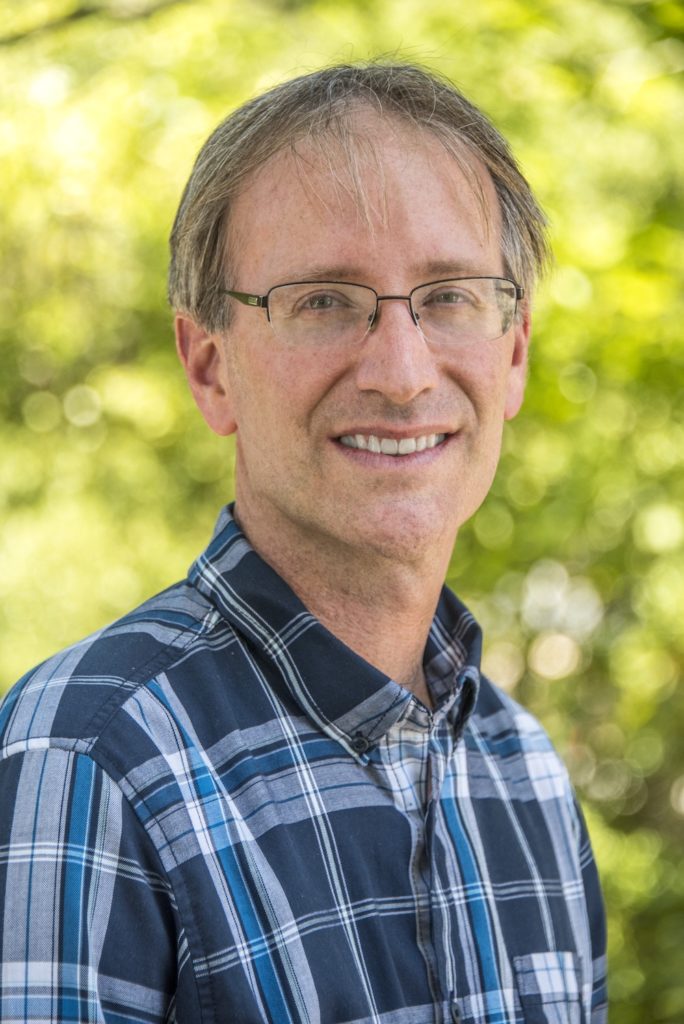 Glenn Roberts Jr., a gifted science writer, pun master, devotee of all things tiki, and beloved member of the Berkeley Lab community, has died.
Roberts was hired by Berkeley Lab's then-Public Affairs department in 2015 to cover physics, accelerators, and chemical sciences. He proved to be the team's most prolific writer, throwing himself into topics as diverse as the crystal structure of parrotfish teeth, fallout debris from the Hiroshima bomb, and the use of quantum computing to study particle collisions. Meanwhile, he kept tabs on an alphabet soup of major science projects – ATLAS, BELLA, CUORE, FIONA, LUX-ZEPLIN – some with dozens of collaborating institutions. He tracked key milestones of the Dark Energy Spectroscopic Instrument (DESI), including the "first light" captured by the telescope instrument in 2019. 
Roberts died on Friday, March 26, of cancer. He was 48. Roberts refused to let his illness slow him down, choosing to go on leave less than two weeks before his death.  
Many of his articles were among the most widely read and shared on the Lab's News Center. His commitment to interviewing and promoting a diverse mix of participants from the studies he covered, and to framing the science with creativity and story-driven narratives, helped the public to see what team science is all about – while also highlighting the joy and excitement of being a scientist. "Much of the science we do is complex and difficult, but Glenn was able to bring it to life for a wide audience," said Natalie Roe, Berkeley Lab's Associate Lab Director for Physical Sciences.
"I've had many interactions with Glenn over the years, and he has done a marvelous job of advertising our fundamental scientific works to the public and to the research community. Often I got emails from very different fields not because of our published paper, but because of the broad audience of the news releases," said Wanli Yang, a scientist at the Lab's Advanced Light Source. "There is no doubt that without his great works, our scientific studies could never get this much and broad attention!" 
A newspaper man at heart, Roberts was known by his colleagues and collaborators for his sharp wit, attention to detail, and unflagging professionalism. He regularly juggled multiple articles about breakthrough findings, often involving enormous international research collaborations, yet he made time to give each piece the consideration it deserved.
He often took on stories simply because he thought they merited a write-up, such as this thoughtful 2018 remembrance of Berkeley Lab's first electrical engineer. He also had a knack for finding new angles to explain the science, such as this light-hearted 2019 piece on how scientists would carry a particle detector on an airplane for experiments at the European Organization for Nuclear Research, or CERN. It began with the memorable lines: "You may have observed airplane passengers accompanied by pets or even musical instruments on flights. But have you ever been seated next to a particle detector?"
"Glenn was a wonderful person, immaculate professional, and always represented the Lab and its many science activities with finesse and flair," said Yury Kolomensky, an experimental particle physicist and Berkeley Lab's spokesperson for the CUORE collaboration. "He wrote several pieces for my experiments, and was always a pleasure to work with."
Roberts previously worked at the SLAC National Accelerator Laboratory, where he covered research conducted with the Linac Coherent Light Source free-electron X-ray laser and the Stanford Synchrotron Radiation Lightsource. His talent for explaining complex topics – ranging from properties of subatomic particles to the use of X-rays for discovery science – allowed people from all walks of life to appreciate the fundamental scientific research being conducted at the national labs.
Born in Hayward, California, Roberts knew he wanted to be a writer from a young age. After studying journalism at Sacramento State, during which time he interned at several local papers, he got a job at the Davis Enterprise. He then worked at several newspapers in California before starting at the Tri-Valley Herald in Pleasanton. It was in this role that Roberts was first introduced to the national labs. His job at the Herald was to cover the "Labs beat," meaning he wrote about news and research coming out of Lawrence Livermore National Laboratory and the nearby Sandia National Laboratories California site.
Roberts fell in love with the subjects he covered, describing his role as one of the best jobs he ever had. Years later, he jumped at the opportunity to work at SLAC, where he could not only immerse himself in the science, but also collaborate with the researchers directly.
After nearly four years at SLAC, he was thrilled to bring his skills to Berkeley Lab, where he could continue to cover the physics research he enjoyed but work closer to his home in the East Bay. He was a dedicated Lab employee for more than five years, during which time he helped grow the Lab's media presence and fostered relationships with the Bay Area network of science communicators. In addition, he was the creative and logistical force behind many of the Lab's most successful events, initiatives, and campaigns, such as our International Year of the Periodic Table celebration and the Lab's first-ever Physics Photowalk.
"Glenn's work in science writing and communication was how much of the public heard about our work," said Thomas Schenkel, head of the fusion science and ion beam technology program in Berkeley Lab's Accelerator Technology and Applied Physics Division. "Our published articles are only read in very small, specialized circles. But Glenn worked with us to get our stories across and present them to a broad audience. He wrote eloquently to share our results, from quantum computing, to cold fusion, to COVID-19. I am very grateful for that."  
Roberts' science writing helped Berkeley Lab's communications group (now Strategic Communications) to win gold prizes for news writing from the Council for Advancement and Support of Education (CASE) in 2017 and again in 2020. 
In the office, it was a regular sight to see Roberts on the phone to scientists at CERN one minute, planning a fun "Nerd Nite" event the next, and helping a co-worker craft a clever headline right after.
Outside of work, Roberts enjoyed spending time with his family, relaxing on warm beaches, going to Oakland A's games, collecting Star Wars paraphernalia, and immersing himself in music – he was a self-taught ukulele player and grew up in a musical household. His other big passion was crafting and tinkering. Roberts used his boundless inventive energy to make fun and unique items, and often with a tiki flair. A longtime tiki culture enthusiast, Roberts built his own tiki bar and crafted Polynesian-inspired mugs, coasters, dishtowels, sculptures, and much more. Many of them were on display in his cubicle and shared freely with his colleagues.
Roberts underwent many treatments for cancer throughout his five years working at the Lab. He continued working until two weeks before his death because, according to his wife, he loved his job and his coworkers. 
He is survived by his wife, Nancy Roberts, of Lafayette, a son, 11, and daughter, 13.  
Robert's ashes will be dispersed in the San Francisco Bay this month, and a tiki-themed memorial will be held this summer. 
To share your memories of Glenn Roberts, comments may be added below. 
For those interested in making a donation, gifts (one-time or recurring) can be made to the childrens' college funds. Go to ugift529.com, enter the beneficiary's code (Kate R. B8N-59A, Jack R. Q4L-C3V), and complete the instructions online.  (UGift FAQ)